So you want some quick ways to jazz up your mud kitchen, then this post is for you !
Mud kitchens are very popular now, especially as many companies are making them for homes as well as schools.
You don't need to buy an expensive mud kitchen, all you need is a little outdoor space, be this in the woods, garden, or outdoor area. Using just kitchen utensils, bowls and water is a good place to start.
If you are well experienced or new to mud kitchens then this list is for you;
1. Storytime Theme
Link the mud kitchen play to a story, this works brilliantly! Traditional Tales such as Goldilocks and The Three Bears is a good one to start. You could include oats (sand as an food alternative), bowls, characters from the story, prompts from the book. This is a great idea to engage children with a different theme. Outdoor play is a brilliant way to explore roleplay and different characters, often children can be more confident and explore when they're outside compared to the constraints of a classroom. It's a fantastic speaking and language opportunity. You don't need to stick to fiction, why not add a non-fiction book to encourage exploration.
2. Sensory Play
Use something other than mud! This could totally change the experience and the choice of different sensory play is vast. Try adding different types of food ideas including, different grains, pulses, couscous  (some people don't like to waste food but sometimes it's good for children to experience handling different food items for sensory play plus it's biodegradable).  A mud kitchen changed into a potion station will be so much fun, keep any little samples of shampoos (check allergies) which is perfect for little hands to explore.
Other things to try could be water beads (always watch) an alternative to these are Rainbow Balls. Vary the loose parts available, as conkers, sticks, leaves, shells, off cuts of wood, tubes for more inspiration have a look at these loose parts by Grasp and Gather.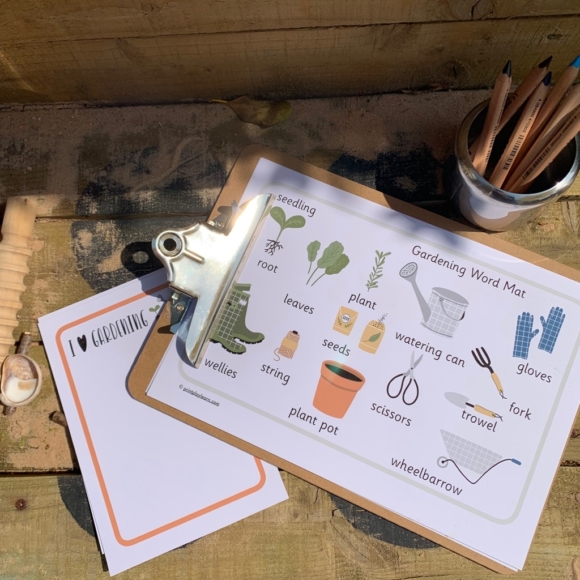 3. Role Play Area
Turn the mud kitchen into a shop or a garden centre. These resources will help you set up this area.  You might want to add real life objects such as seeds, planets, vegetables or fruit. This way you can add in lots of other opportunities for learning, such as mark making, numbers, shape or measure. An investigation station would be great, as a way to link some STEM (Science, Technology, Engineering, Maths) learning. Maybe you'll want to add a till, some paper bags, coins and other objects you may find in a shop.
4. Yearly Events 
Just like you might theme an indoor classroom, you could theme your outdoors. If it's Valentine's day, why not include hearts, paper, poems, words and friendship potions.
Seasons are a perfect way to develop a mud kitchen area. Go on a sensory walk and collect items for your mud kitchen. In winter you could use ice, snow (if it's around!), polar animals, natural items such as pine cones, fir etc, but be careful if handling holly. For Autumn you could include dried leaves, conkers, pumpkins or squashes. Spring is perfect, add grass, flowers, daisies with some scissors. For a Summer theme, you could go with a beach theme including sand, shells, pebbles, flowers or blossom.
I hope you find that information useful. I would love to hear your ideas on how you use a mud kitchen in schools or at home. I'm always looking for new exciting ways to play!
For even more inspiration and themes here's a Mud Kitchen check list to get you inspired.
If you share do tag us @printplaylearn #printplaylearn