Welcome to a series about 'Playful Businesses' businesses.
This week we are meeting Becks the co-founder of My Kid Made. I love the way you now have children's artwork in your home looking super stylish and encourages the importance of children expressing themselves with art and allowing them to be creative. 
Tell me about you!
I'm Becks, co-founder of My Kid Made and Jot Paper Co. I live in Liverpool with my husband Dan and two-year-old son Miles. Dan and I moved to Liverpool at the start of 2017, after setting up our print studio – Jot Paper Co – so he could work flexibly around a health condition. Initially we designed and made greetings cards and we've slowly grown our in-house printing facilities to offer hot foil, Risograph and Giclee print services. As well as printmaking, I love painting and textile art. My next project is to make a quilt although this has been on my to-do-list for about six months and I have yet to start! When I'm not working on our business, I juggle parenthood and part-time work. I started My Kid Made in 2020 combining my passion for printmaking and the creativity of kids.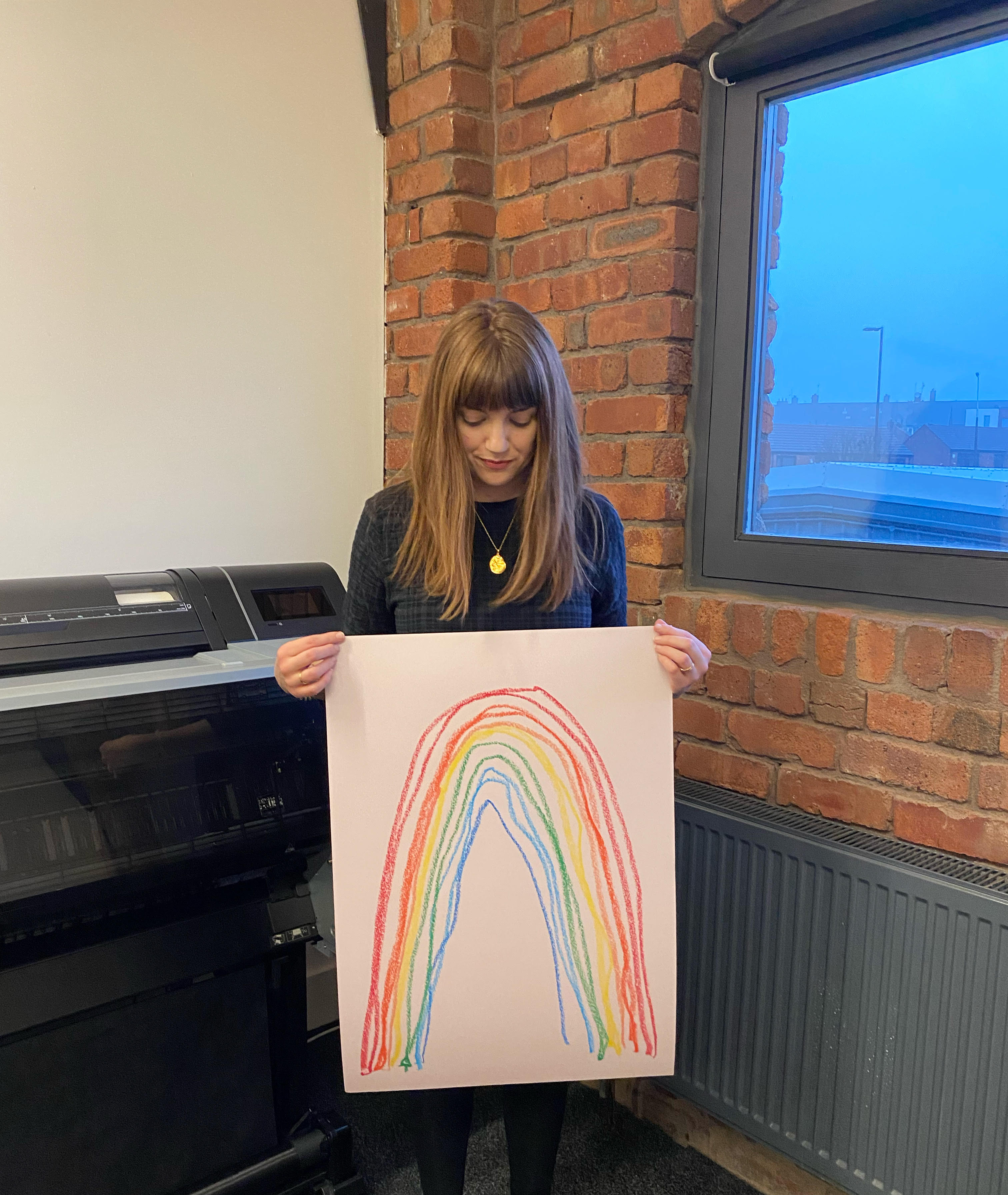 Tell me about your business?
My Kid Made is a personalised print service transforming children's drawings, paintings & collages into large-scale fine art for your home. People post us their child's artwork and we scan it in using a state-of-the-art scanner allowing us to scale up to A1 without losing the quality. We then giclee print onto artist-quality archival papers and send back with the original artwork. Since launching, we have transformed felt tip marks, crayon scribble monsters, abstract brush strokes and much more into big impactful art prints for the home. Giclee print uses fade-resistant inks so it's an artwork that families can treasure for a lifetime.
Why did you start your business?
I'd been looking to start my own project as I'd struggled with my work identity after having my son and not being physically present in the print studio. I was also made redundant from my part-time job a few months after returning from maternity leave which was a massive knock to my confidence. I think like a lot of other people during lockdown, I wanted to create something new and challenge myself. I had the idea for My Kid Made during lockdown in 2020 after spending a lot of time indoors drawing with Miles and also looking at the empty walls in our home which were calling out for a bit of art. However, we are very picky about what art we want in our house. Generally, it needs to tick two boxes: it needs to mean something to us but, as printmakers, the print quality is really important to us too. Using a state-of-the-art scanner, we were able to scale up our son's toddler-size paintings to large adult-size prints. After a bit of tweaking and trying out different layouts, we then printed in fine art quality onto acid-free archival papers. The results were even better than we imagined, so we thought why not offer this service. Children's art can be beautiful, funny, surprising and inspiring. Children create unselfconsciously, without inhibitions. Give most adults a paintbrush and they will use it in the 'correct' way. A kid will drag, splat, roll and throw. I think that's really inspiring and something we should definitely be celebrating. My mission with My Kid Made is to celebrate the innate creativity of kids and give it the space it deserves.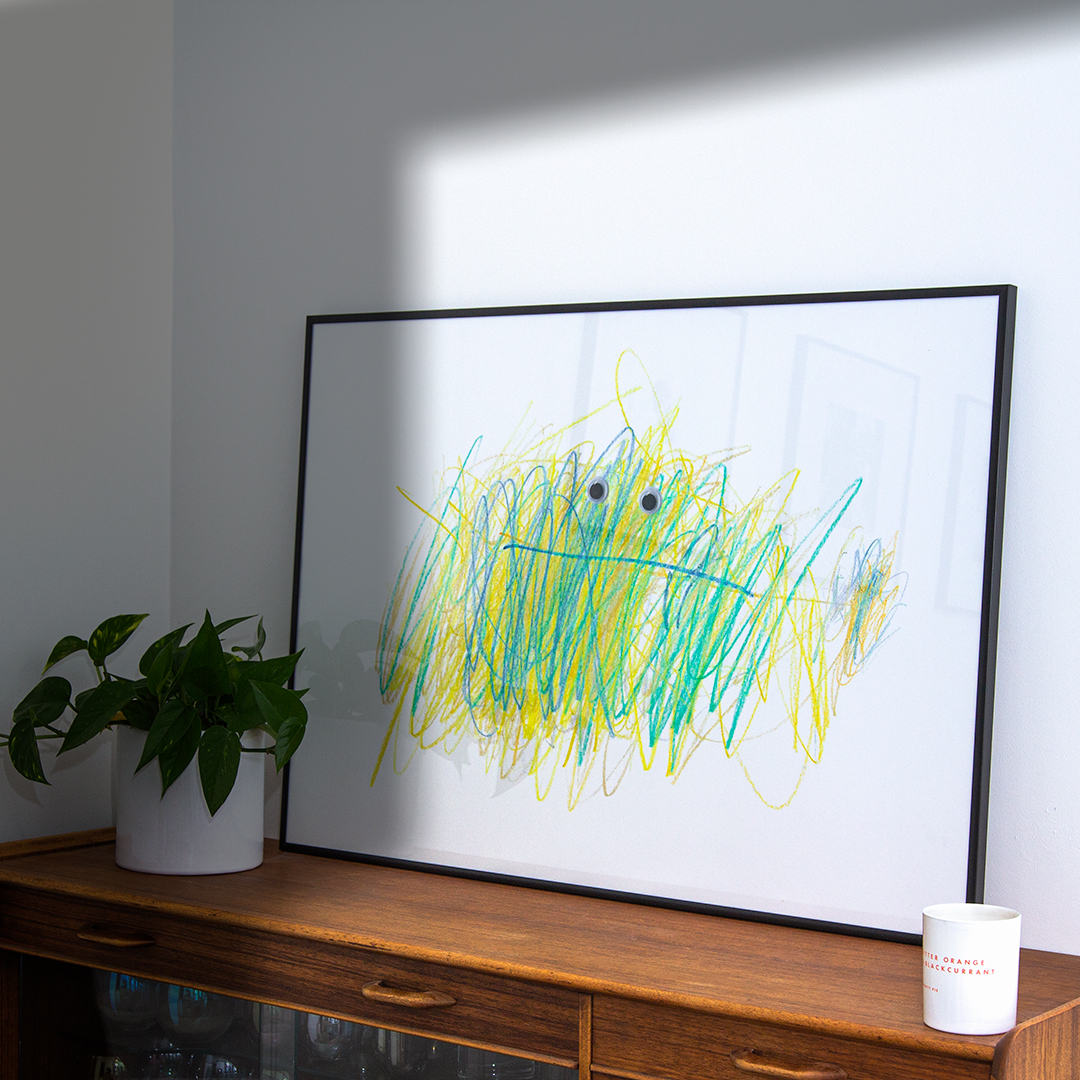 Play Tip:
When it's sunny, I love to get outside with some papers and paint. Get imaginative with your tools – it doesn't need to be a paintbrush. I collect short strips of ribbon, tissue paper, dried pasta, toy cars, leaves, bubble wrap (anything) that can be used If you are up for getting really messy, you can add an extra sensory element to the paint by adding flour or dried lentils to really encourage your little one to get stuck in.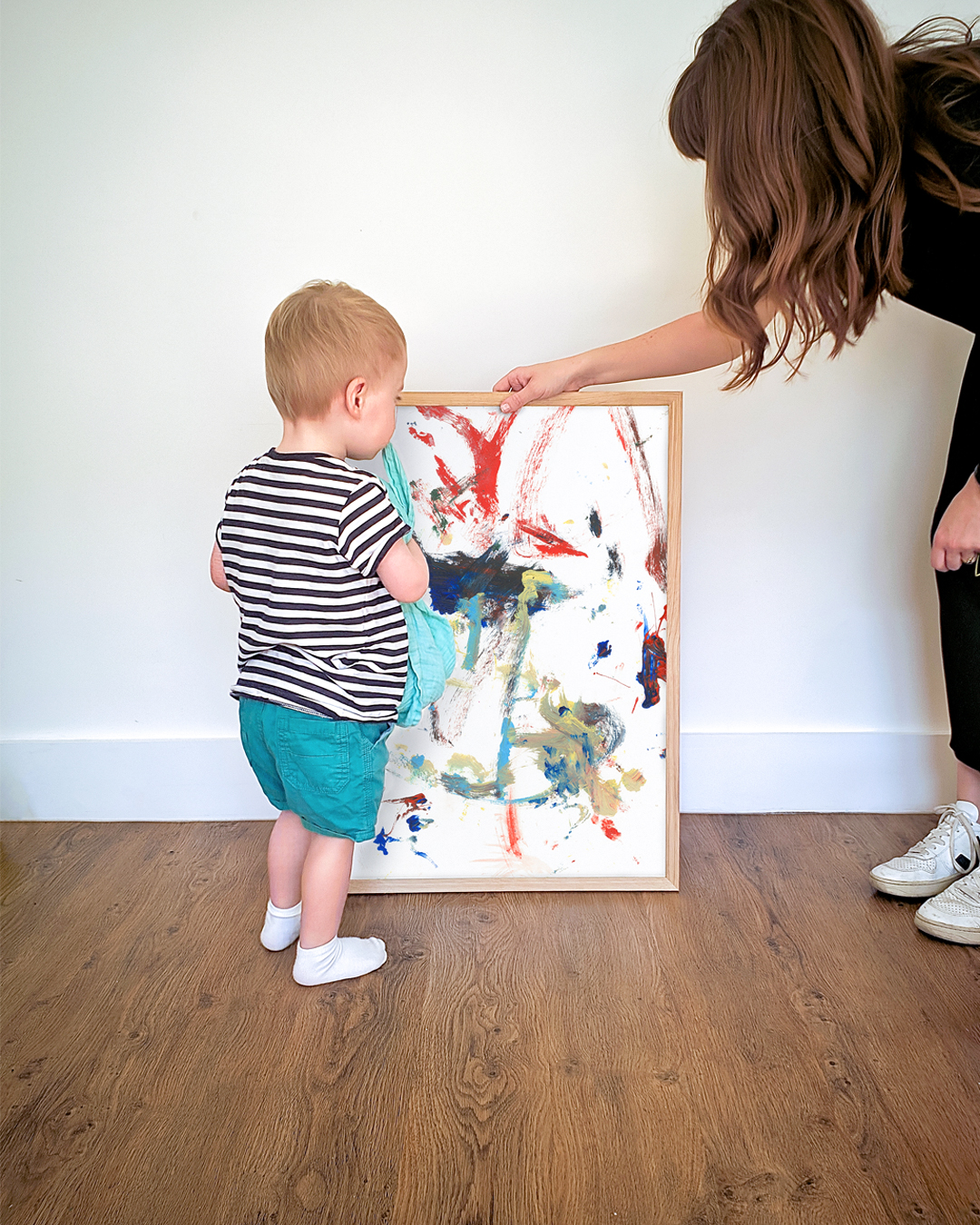 You can find My Kid Made at the following places:
Instagram @mykidmade Website: www.mykidmade.com Order a bespoke print: https://www.mykidmade.com/shop/p/my-kid-made-original-print Email: studio@mykidmade.com
Amazing music was made in the 90s then, do you have a band or song you particularly like from then?
I'm afraid I don't have any undiscovered gems to share. I love David Bowie – Moonage Daydream is my favourite song. Also love a bit of ABBA, Kate Bush and Kylie Minogue!
Do you have a Playful Business? If so get in touch, I would love to hear from you.  Just drop me an email, thank you, Michelle