Welcome to a series about 'Playful Families'. There are hundreds of families incorporating play at home and I wanted to share some of my favourites with you.
I have been following Beth for a longtime now. She has always shared such great ideas for play activities at home. This post was written last year and I'm so happy to finally share it with you.
Tell me about you!
I'm Beth, a self employed social media manager and mum to a 3 year-old. I live in a little rural village in West Dorset and have a giant fluffy dog called Bobby, as well as two cats and a husband.
When my son was born in October 2017, I found myself spending lots of time at home with him and looking for ways to keep us both entertained.
He was what you might call a 'busy baby' who needed stimulation at every waking moment! We went to Baby Sensory classes once a week but outside of that hour, I felt the need to do more with him.
I wasn't working as much and needed a project to keep my brain busy. I've always been a creative person, so I was craving something that would allow me to be imaginative while spending quality time with my baby.
This is how I got into sensory play. It was brilliant for my baby's development, it was something I could get creative with, and it entertained us both. I bought our first tuff tray, along with sensory scarves and other resources, and enjoyed experimenting with play setups for him to enjoy at home. It was a lovely way to bond with him and learn more about what he likes.
One key benefit of doing our own sensory play at home was that there were no time limits, and it could be entirely child-led. I invented play setups based on his interests and if he wasn't into it, we moved on.
I started posting photos and videos on my personal Facebook Page and received a lot of interest from my parent friends. Encouraged by this, I started an Instagram account to document our play. The first photo I posted was simply my baby playing with a tray of cereal, bowls, and scoops. I found a wonderful community of parents and other play accounts on social media and my ideas were well received.
Tell me about your business? 
This is where it gets interesting. Pumpkin Play is no longer trading as a business, and I'll explain why.
What started as a fun project to share ideas became a business hosting local messy play events. Our first event was in June 2019 and our last one was in February 2020.
Pumpkin Play is named after my son, who we nicknamed Pumpkin because he was an October baby. This is what I called my Instagram account when I started posting play ideas and it was also the name of my business.
We started hosting messy play events around twice a month in two venues, with themes such as Winter Wonderland, By The Sea, Bake-Off, and Messy Christmas. They took place on Saturday mornings so that both parents could attend if they wanted to, and it was a fun side-project.
It was so lovely seeing the babies and toddlers enjoy getting messy, and the delight on their little faces! We weren't making a lot of money, but we were happy doing it for the joy. My son loved coming along and being a guinea pig for new ideas at home.
However they involved a lot of hard work and energy on top of other commitments and they were increasingly eating into family time, which is the opposite of what I set out to do. My other work as a social media manager was ramping up again and I was finding it all too stressful to juggle two businesses and a toddler. It reached a point where something had to give.
I am very glad I did it and will look back on the wonderful memories with a smile. The only thing I am sad about is that we didn't get to host our last event due to the coronavirus outbreak. It would have been nice to say goodbye to our regulars properly.
I have since started a blog where I post play ideas you can try at home, and I continue to document our play on social media. I'm not ready to give that up yet!
Why did you start your business and how?
In our local area, there was very little on offer in terms of events and clubs for working parents with small children. Once you went back to work, all those lovely groups during the working week were no longer an option.
Initially I wanted to take my son to messy play events rather than host them myself, but my working hours didn't fit with the ones that were on during the week. So that's why I started my own events at the weekend.
I made a habit of sharing our activities on social media so that other parents and messy play groups can use our ideas. Many of our activities can be repeated at home so I was always open about how to set them up incase others wanted to give them a try.
Play Tip
"
My top tip for play is to follow your child's lead. "
Watch closely and pay attention to what your child is doing and try to work out their interests. For instance, my son would empty my book shelf at home at any opportunity. My first reaction was despair (my precious books!) but I forced myself to stand back and work out why he was doing it. When I let him continue, he started stacking the books on top of each other. Then I realised, "oh ok, you like stacking things. Let's find you some other things to stack."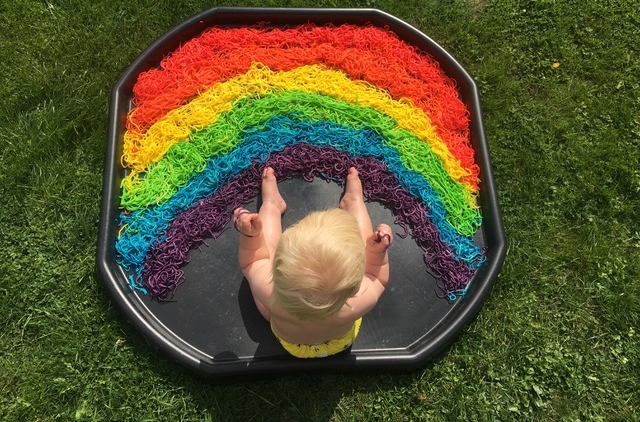 If you can create an activity that allows your child to explore an interest they already have, that's when they are likely to get the most out of it. At the moment my son enjoys transferring materials from one container to another, and he loves vehicles. So that means a guaranteed winner in our house is dumper trucks combined with sand/rice/cereal/beans. He also loves water play, painting his body…anything that makes a mess!
The other thing is never to force it and always be open to changing things up. If he's had enough, we move on. If he wants to change the play by grabbing some scoops and tubs or adding some water to the sand/rice/cereal and stirring it all up, we do that. It's always a good idea to provide a variety of tools and containers with each activity so that they can choose what they want to play with.
In a large group setting, I would set up a variety of activities that would appeal to different ways of playing so that there was something for every child. At every event, I was watching to see how they played and planning improvements for next time. While I had an intention with every activity, I was often surprised by the babies and toddlers inventing their own games. It's fascinating!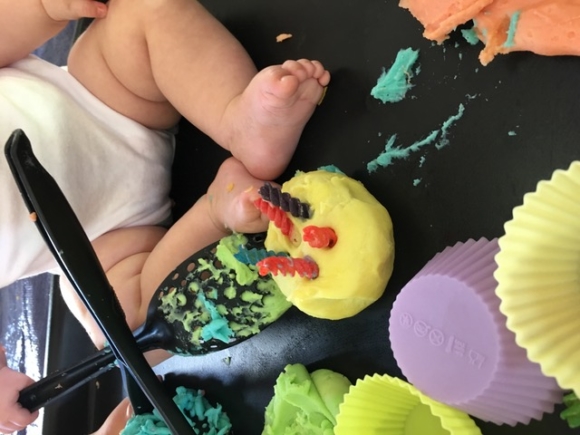 Where can people find you? 
I love bands from the 90s! What's your favourite?
Anything by Take That. I was obsessed. My room was covered in posters and I watched their concerts over and over on VHS (those were the days!)
I was also a fan of No Doubt. I remember showing my Mum a picture of Gwen Stefani in a string vest and asking if she could get me the outfit. It was a hard no, but then I was probably only 10 years old.
Do you have a Playful Family or

Business

and would love to be featured?
If so get in touch, I would love to hear from you. Just send me an email.